Iris Scheiferstein, She thought
I am mostly bored by personal blogs. Very, very rarely do I enjoy sex-and-the-city blogs. It's probably comes from being incredibly old but there's another tiny reason. I have listened to enough stories about other people's love lives (and talked about mine) to last three long-running television shows. It's fascinating only because we get to say "I told you so, you stupid cow" Or some kinder version of that.
And for pure titillation, sex bloggers don't seem to have enough sex to be interesting. Girl with a one-track mind used to be slutty enough with plenty of messy bodily fluid. The sex worker blogs are sometimes just depressing.
Wierder, after being super-girly my entire life I find my favourite sex blog is written by three men.
Tao of Geek has a gorgeous strip explaining why so many people like personal blogs.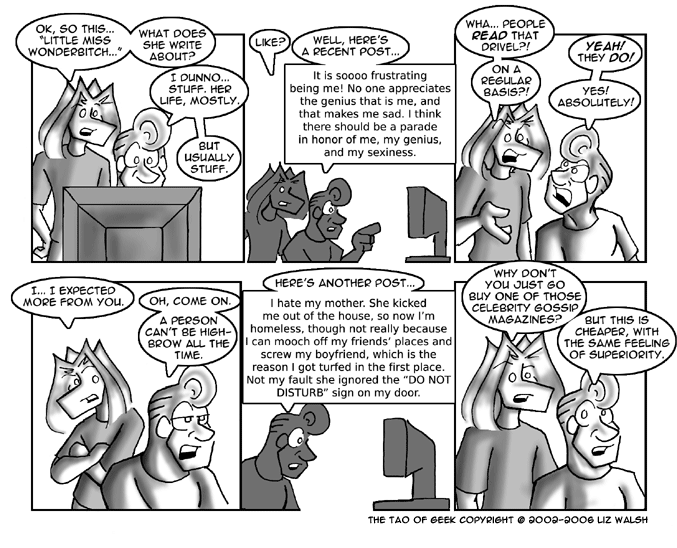 One of the few exceptions to my general veto on girls rambling on is One Trick Pony. Her blog I love you Rasna is one of my favourite pick-me-ups. I like reading it between waiting for the water to boil for coffee and the toaster to ring. She is inevitably funny regardless of whatever she is talking about.
This week she has: Classic Bollywood lines that would make hilarious April Fools' pranks.
- Tulsi? Tulsi ne to bees saal pehle, un paharon se kood kar apni jaan de di.
- Tumhari maa hamare kabze mein hain
- Apko lymphorsarcoma of the intestine ho gaya hai. ab dava nahi, dua ki zaroorat hai.
- Boss! Maal pakda gaya.
… and so on.
A couple of recent posts had me bursting into tears. One trick pony has no angst, no self-pity and thank god, no coyness. Just spunk and style.